Toboggan Track Hinterhorn Alm in Gnadenwald
2 km track and the top of the run can be reached in 45 minutes by foot.
This beautiful 45-minute walk towards the Hinterhorn Alm in Gnadenwald in the Tyrolean Inntal is the ideal toboggan track during winter for families to enjoy a lovely toboggan ride with excited children. After the lovely walk through the winter landscape a thrilling ride awaits.
Toboggan Track Hinterhorn Alm:
Location: in Gnadenwald, approximately 7 km from Hall in Tyrol
Length: 3 km
Difficulty: easy
Start: Gnadenwald, direction Hinterhorn Alm, 1,091 m
End: St. Martin, 891 m
Altitude: 200 m
Availability: 45 minutes by foot
Specials: short walk, suited for families
Restaurants: Alpenhotel Speckbacherhof, Cafè Martinsstuben
Opening times: December - April, open daily
Toboggan rental: Sport Perktold, Wattens, +43 664 2617 138
Ski school and rental shop: Total, Tulfes, +43 5223 78483
Rental fee: information regarding fees available at the rental service
Information: Community office Gnadenwald, Tel +43 5223 48 155
Farmhouses nearby ...
PLATTNERHOF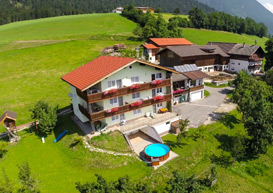 Fam. Steinlechner
Umlberg 60
6123 Terfens
Tel. +43 5224 66017
Mail info@plattnerhof.biz